You are here: Home » The Marketing Diary » October Archive
October
The Marketing Future Has Already Begun
What happens when media consumption moves from being linear to becoming nonlinear? Is this only a distant future or is it already happening? It's true, consumers are getting increasing power over their content consumption habits. It's already happening.
The Enlightened Salesperson Manifesto Launched
The Truth About E-mail Marketing?
Do consumer marketing channel preferences translate in to some channels being more effective?
Why do we still look at web sites as print catalogues?
Sales oriented web sites are not print catalogues, but rather dynamic sales letters than we can improve continiously. Instead of arguing how to design and structure your web site, rather put together a list of things you want to test.
Rok on E-mail, RSS, Entrepreneurship and Failiure
Kim Bloomer just interviewed me on various professional and personal topics. Some great questions and some "revealing" answers:)
The Do-Not-Call Registry Changed the Telemarketing Landscape
A new study reports that ROI for telemarketing campaigns has greatly increased this year, doing much better than e-mail marketing ROI.
RSS as a Change Agent: The Macroview
How RSS is changing expectations towards internet content and how that is effecting everyone. Is this the end of the "democratic" nature of content delivery?
There has always been talk about how content is king on the internet. That, quite naturally, is true. However, reaching our goals and at the same time best serving our visitors requires relevant content. But what is relevant content in the first place?
The Digital Future Report - Internet Users Don't Trust Internet Content
The Digital Future Report uncovers that over 40% of internet users believe that only about half of the information on the internet is reliable and acurate, while only 9,5% of users believe that information on web sites maintained by individuals is credible. Imagine the marketing implications of this ...
My 'Finance' Balance Sheet: Wrapping it Up [Part #4]
Time to close this chapter of my life by taking a look at the business concept behind Finance-on.net and some of the things I consider my failiures there ...
Hard data on the third MarketingStudies.net e-zine delivery stats with some interesting developements ...
Why the Enlightened Salesperson Marketing Partnership Contest Failed?
We polled our marketing partners to see from their viewpoint what was wrong with our contest. The results actually aren't too surprising ...
Special Report: The Marketer's Introduction to RSS Content Delivery Power
MarketingStudies.net just published a new free report titled The Marketer's Introduction to RSS Content Delivery Power. Download it here ...
Enlightened Salesperson Final Partnership Contest Results
The Enlightened Salesperson marketing partnership contest is over and the results are in. Find out why this campaign was my 'greatest' marketing failiure and what actually went down; hard-data included, as usually.
What Distinguishes A Marketing Driven Company
Every act is a marketing act, and every person working with a company, 'from the guy in the mailroom to the chairman of the board to the best and worst customers', holds the key to marketing success.
:: Continue reading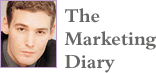 Read about real-life marketing and project management experience, views and results. Follow our projects and see what worked and what didn't and especially what you can learn from our mistakes and successes.
Edited by Rok Hrastnik
Unleash the Marketing & Publishing Power of RSS

The e-book that is defining RSS marketing.